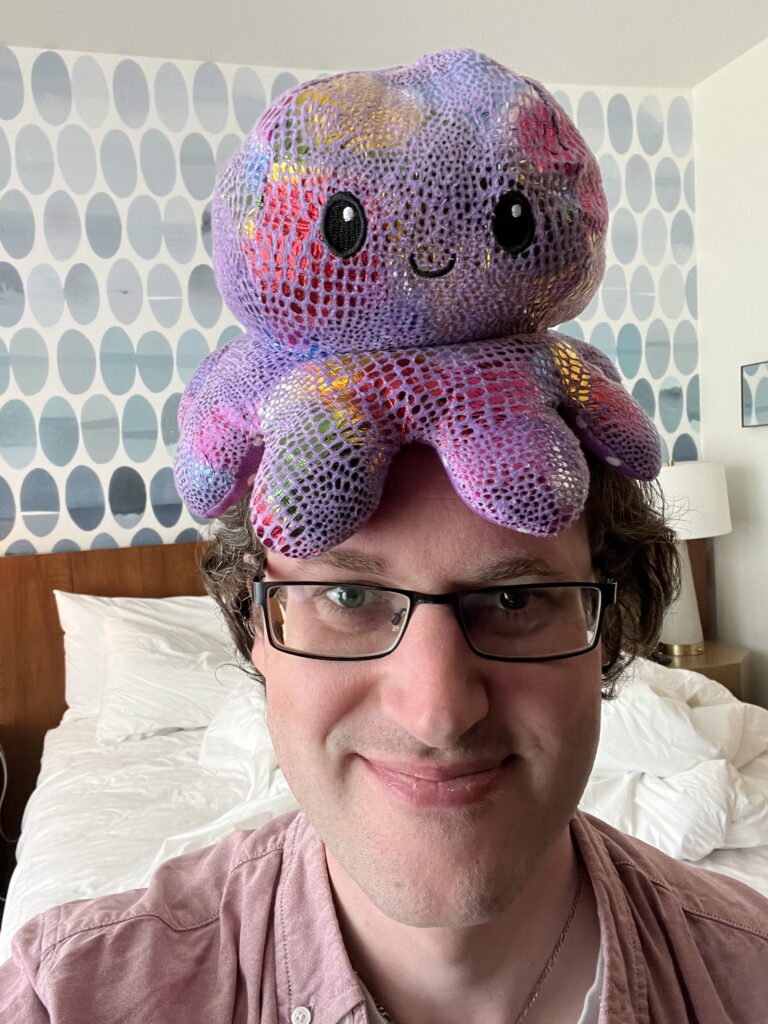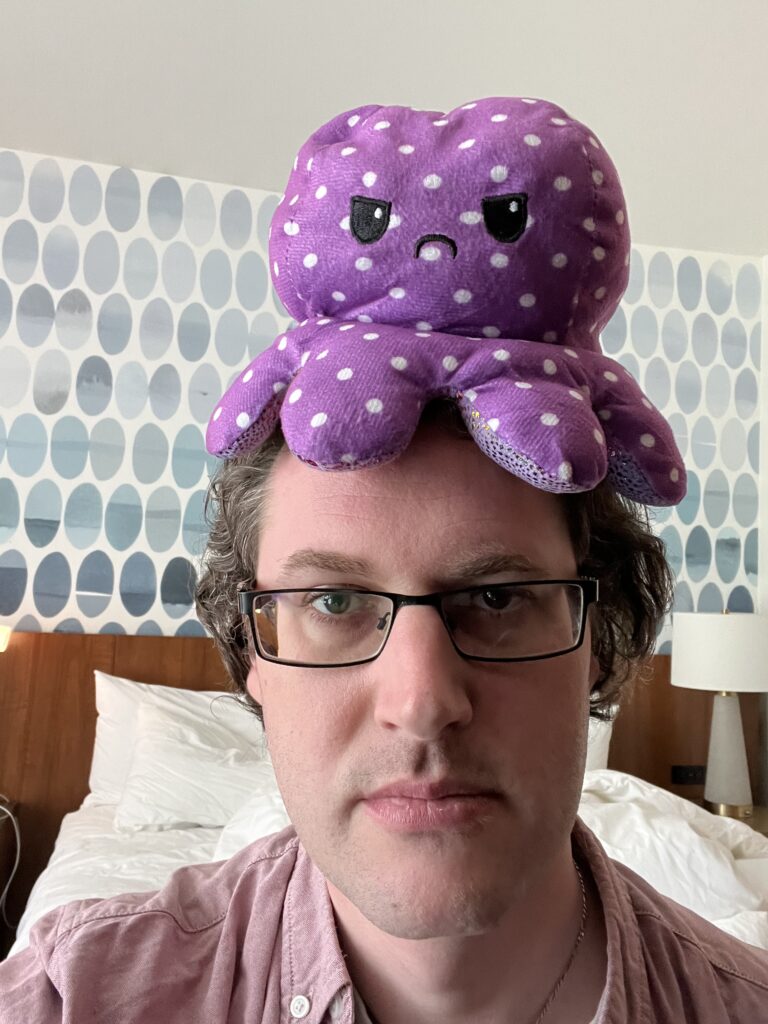 I was excited to have the opportunity this year to travel to my first ever Internet Identity Workshop. This was IIW XXXVI, and as the name implies, though it was my first, it was far from the first. There's been 36 in total, over the last 18 years. As far I can tell, the majority of them have been held at the Computer History Museum in Mountain View, California.
I've heard about IIW since my earliest days at ForgeRock, and though I've participated in both conferences and unconferences since then, I was still a little nervous going into proceedings. I've used internal speaking opportunities over the years to increase my public speaking abilities, but the majority of these have been to internal audiences or customers. There's little that can prepare you for speaking with a room full of experts, especially when some of those have names that you've seen in writing hundreds of times. Names of authors whose specs you've implemented, and who are legends in the industry.
Even with a decade under my belt working in digital identity, imposter syndrome is very real and frustratingly powerful.
In the days before the conference started I had the opportunity to wander around San Francisco. Walking across the Golden Gate Bridge, and seeing the city in person. I will admit a moment of pride in my home city of Bristol – its Clifton Suspension Bridge having ever-so-slightly higher ground clearance than the Golden Gate – 75 metres vs 67 metres respectively!
Getting Started
At a guess there were around 400 participants at IIW, and upon arriving we were immediately thrown into some forced (well, not that forced) socialising. Before even the Opening Circle participants were encouraged to grab a seat at a table with around eight other folks, introduce themselves and get some conversations going. I needed this. It really helped me relax and find my voice, and I met a number of folks at that first table that I'd come across throughout the next few days of the event.
Opening Circle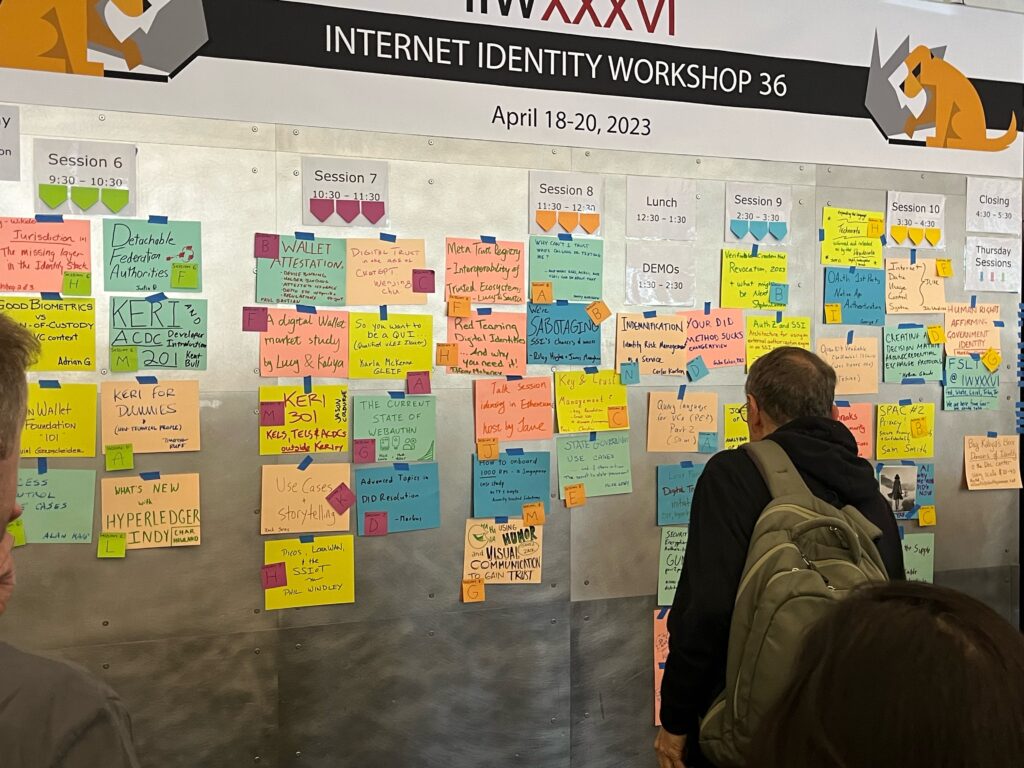 Then to the Opening Circle, and here's where the wonderful Kaliya revealed her superpowers. Everyone was asked to introduce themselves, and say one thing — and only one thing, mind! — about themselves. Most folks, myself included, simply stated their name and company. Mostly I was thankful I managed to speak clearly, stand up at the right time, and pass the microphone on to the person beside me. Though there were a few more adventurous souls: some singing, some sneaky self-promotion, some inside jokes, and a boisterous introduction from Ken from Homeland Security: "I'm from the government!".
Kaliya moved us on, keeping great time. Introducing the 4 Principles:
Whoever comes are the right people
Whenever it starts is the right time
When it's over, it's over
Whatever happens is the only thing that could
And we were off! Unconferencing as best we could. Up stood facilitators, pitching their session. Over to the wall they walked, grabbing a timeslot and a room.
Location and Layout
The Computer History Museum is a great space. There's a big variety in the size and style of each of the rooms for the sessions, and (usually) enough space for everyone to comfortably take a seat, even for the more popular sessions. Walking between the sessions only takes a few seconds, and there's also plenty of room to sit down and have a quiet chat with folks you're connecting with.
The People are Awesome
Simply put, the folks that work in my industry are incredible. Welcoming, friendly, eager to converse, and good fun to boot. I want to make two significant mentions:
Judith Fleenor who I spoke to just before IIW started at the OIDF Workshop that took place the day before. She helped introduce me to folks, settled my nerves, and made me feel part of the larger family of identitarians that were present at IIW. If you read this: Thank you, Judith!
Lucy Yang who I spoke to on the same day I met Judith, who reached out to me, and helped introduce me to folks and generally put my at ease. Thank you, Lucy!
At the end of the first day, the closing circle which includes a quick rundown of a number of the sessions that took place that day, also included a special "giving thanks" session. This was something I was unprepared for, and involved gifting individuals that had made a significant contribution to another participant's time in the digital identity space. In retrospect I am a wee bit ashamed to have not had the bravery to step forward and thank Judith publicly for all she had done for me the night before.
IIW is a place that encourages and supports a variety of opinions on a huge range of topics. To be able to accommodate that spectrum of interests, motives, desires, and personalities is a challenge for any event – even more so when that event spans three days! In an industry where the people weren't so gosh-darn nice, I struggle to see how such an experience could take place.
It humbles me, and it reminds me to make sure that I'm doing my part to contribute back to the community. That's one of the motivations for this blog.
You Don't Have to be an Expert to Speak up…
…but it's worth listening when the experts do start! Despite how welcoming the people in the digital identity industry are, speaking up in a room full of experts is still a daunting task.
It took me time to be relaxed enough to start contributing to sessions, even on topics where I was most confident in my opinion. Sometimes you'll want to speak but there simply isn't enough time for everyone to contribute – though most facilitators did a wonderful job of including as many voices as possible into the conversation.
It was also important for me to remember that attitudes or expressions a timid Englishman on his first trip to SF finds potentially abrasive may not be considered so in less reserved parts of the world. Likewise, I realised early on that moderating tone and language to facilitate discussion went a long way to making sure that points were understood clearly by the whole audience. It's easy to misspeak, or to be misunderstood. Disagreements happened, and were not something to shy away from, but conflict certainly was. I'm happy to say that despite seeing discussions with multiple sides represented and argued that the tone was always towards that of construction, and never dismissal.
Highlight Topics
So, what were some of the key takeaways for me from IIW36?
There was a lot of talk of wallet-based credentials in its various guises. There was a good amount of talk of DIDs, verifiable credential formats, and key management. I found the sessions on ways to increase adoption of wallet-based credential technologies interesting. Opinions varied widely on this topic, but the consensus seemed to me that this technology is here to stay, and only going to get more prevalent with every passing year. Significant drivers such as eIDAS2 and its associated ARF were mentioned frequently.
I spent a large portion of the workshop keeping track of the work done by the authors of and contributors to the OID4VC specifications. I feel these specs will be really significant in bringing together and enabling a common way for issuers, verifiers and holders to make sure they can speak in credential-format agnostic ways. So much so that right after IIW I bit the bullet to join my first OIDF WG calls on that topic!
I also very much enjoyed the sessions highlighting the need for common query languages for credentials of all kinds, especially including discussion of the presentation exchange spec.
Conclusion
Overall — as you've probably picked up from reading this far — my experience was incredibly positive. I hope to be able to travel again to participate in future IIWs – time, budget and other work pressures allowing. If you're reading this as an identity practitioner and considering whether it's worth it, I say go for it!